Casa de la Cuesta Bed and Breakfast was envisioned and built by Bill and Heidi LeVasseur, and opened for its first guests in early 2000. Their passion for Mexico originated many years earlier, however, when Bill's New York-based company gave his family an opportunity to live in Mexico City in the 1970's.  Upon retirement and recognizing their love of the country, the culture and the Mexican people, they decided to commit to Mexico. So they moved from Mexico City to San Miguel de Allende and started a business that would allow them to share their knowledge and love of Mexico with others. They have three sons, all married and living in the USA with seven grandchildren who visit frequently.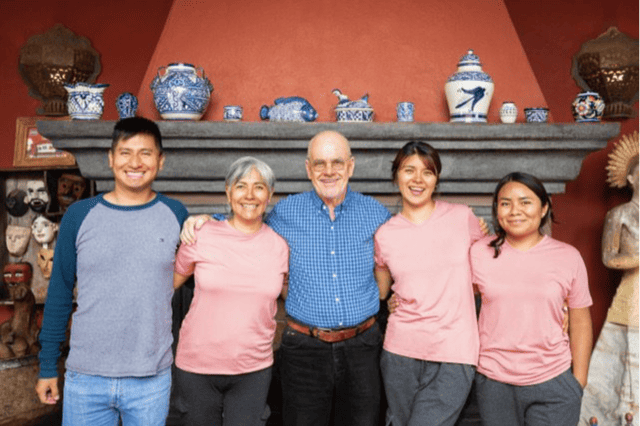 RATES
All rooms accommodate 2 guests and are $180 USD per night, tax and full breakfast included.
Escondido and Garden Casita rooms can accommodate 3 guests; 3rd guest is an additional $50 per night.

Casa de la Cuesta is not suitable for infants, toddlers or children under 16 years of age. Two night minimum stay for all rooms. No pets please.

RESERVATION DEPOSITS
To guarantee your reservation, we require a $90 deposit per night per room, which you may pay for with Visa, Mastercard, Zelle, PayPal, check or bank transfer. When we receive your reservation request and have confirmed room availability, we will send you instructions that will allow you to make your deposit to guarantee your reservation. Our Zelle and PayPal accounts are under info@casadelacuesta.com.

ROOM CANCELLATION
No reservation, even though confirmed, is guaranteed without receipt of the room deposit. If a reservation is cancelled within 30 days or less of your check-in date, you agree to forfeit your deposit. Implicit in this policy is that any reservation made within 30 days of arrival is also subject to forfeiture of room deposit, if cancelled. We will not apply room deposits towards future bookings. Additionally, you forfeit your room deposit for those room nights left vacant if you leave prior to completion of your stay. There are no exceptions to this policy. A $50 processing fee per room will be deducted from any deposit returned.
Arriving guests who are in violation of our policies with regard to pets, children, etc will not be allowed to stay at Casa de la Cuesta and will forfeit their room deposit.

SEASONAL, GROUP AND LONG-TERM STAYS
Special rate consideration for long-term stays and group reservations. Inquire please.
Prepayment in full is required to guarantee reservations during Christmas/New Years, Easter and Day of the Dead seasons, for stays of 7 nights or longer, and for group bookings. US $90 per night per room is due to reserve your room and is non-refundable. The balance is due sixty days before occupancy/arrival. In the event that less than 60 days notice of cancellation is received for seasonal, long term, or group reservations, we do not provide refunds nor will we apply room deposits or prepayments towards future bookings. Implicit in this policy is that any reservation made within 60 days of arrival is also subject to forfeiture of room payment, if cancelled. There are no exceptions to this policy. 
Cuesta de San Jose #32, Zona Centro, San Miguel de Allende, Gto. 33770